Time to share another Influenster goodie! Included in my
Cosmo VoxBox
was a mini bottle of
Bath & Body Works
most luxurious new fragrance: Forever Red. I love trying new perfumes, so I was excited to see the bottle in my box. As far as reviewing goes perfumes are easy to test, yet they can be tricky to describe - I'll do my best! Let's start off with the official description from the website:
"Our most luxurious longest lasting fragrance blends opulent notes of fiery red pomegranate and delicate peche de vigne, a rare and fleeting French peach. Soft petals of red osmanthus give way to notes of addictive velvety marshmallow and a surprising finale of rich vanilla rum that leaves an unforgettable impression.

Top Notes: Fiery Pomegranate, Rare French Peach, Luminous Apple
Mid Notes: Red Peony, Night Marigold, Red Osmanthus
Dry Notes: Rich Vanilla Rum, Velvety Marshmallow, Oak Wood"
Right away I was happy to see that one of the notes is vanilla - I'm a huge fan of vanilla scents and was optimistic that this would be something I'd like, yet different from what I already have in my collection. I also really like the look of their full-sized bottles. The dark red glass accented by a flourish of red ribbon is a nice balance of stylish appeal and sturdiness. My mini bottle does not have the cute little ribbon tie, but I love how easily it stows away! And I love the atomizer on it. This perfume sprays an ultrafine mist that exactly covers the decolletage the way a luxurious fragrance should! I only need one spritz.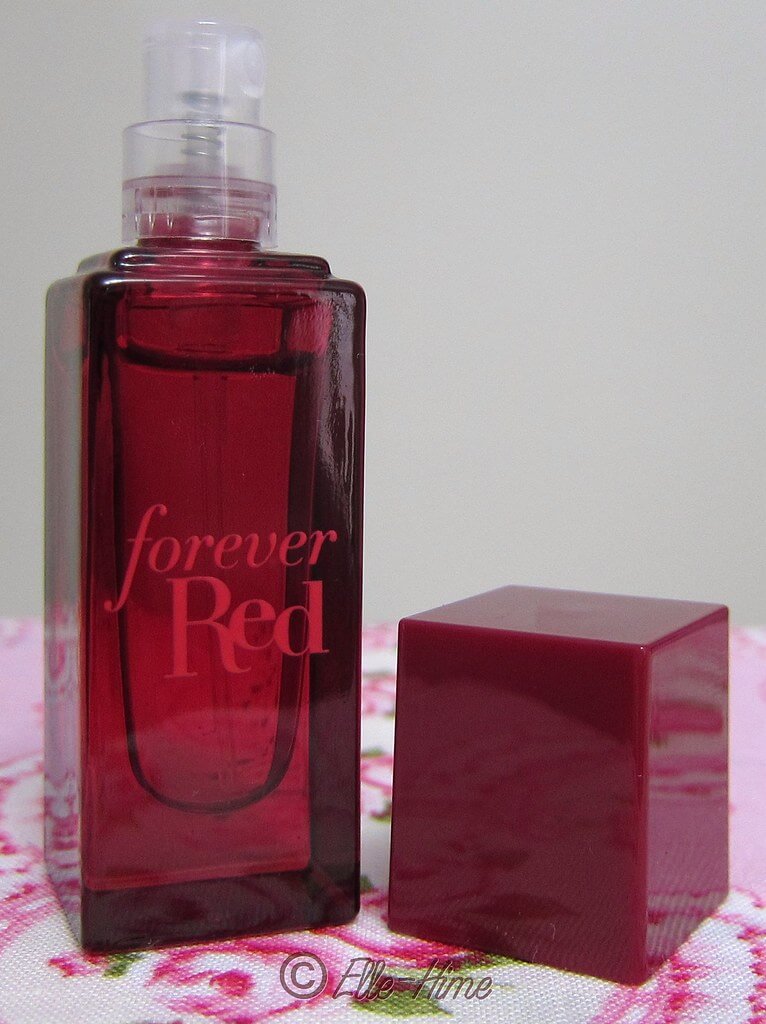 But does it smell any good? My vote is a big yes! What does it smell like? is where my answer starts to get fuzzy. I have a hard time putting my finger on exactly what it smells like, maybe in part from the floral notes which I'm never good at identifying. Mostly it never has an overpowering, fake perfume smell. I'm sensitive to chemical odors and will get a splitting headache from anything too strong, but have had no issues with this fragrance. Forever Red sticks pretty close to the skin. I don't notice it all day when I wear it, but if I try to smell it I can tell it is still there.
While I may not be able to place the exact scent, this perfume works well with my chemistry. It will last all day and sometimes into the next morning. It never turns powdery, so the floral notes aren't too strong. It never turns sticky-sweet, meaning the fruity notes don't come across as fake. It does a have a certain warmth from the dry notes, with the rum vanilla and marshmallow being the most noticeable. It's like the best aspects of the 'floral fruity' genre combined with a subtle gourmand.
Here is what I really love about wearing it. It might just be my chemistry, as a perfume will smell different when sprayed on someone else's skin, but this happens when I wear Forever Red. When I work hard enough to warm up but not quite break a sweat it develops this fantastic aroma of freshly made cotton candy at the fair. It must be from the vanilla and marshmallow base notes combining with the fruity ones. I wasn't expecting that but it is totally me and I love it! I can't stop sniffing when this happens.
Importantly, my husband really likes the smell of it. When I ask him what it smells like his answers have been "sort of fruity?" and "like berries". Whenever he does notice it he comments positively. So I also like this fragrance for the fact that he does.
Honestly I haven't shopped at Bath & Body Works in ages, so when it comes to their claims of creating their most luxurious fragrance ever I don't have much to judge by. It's more expensive than their usual offerings but Forever Red's price falls into what is usual for me. This does smell like a quality perfume, but I think the whole idea of what smells rich is totally subjective. I will wear this and even repurchase it because I genuinely like it, not because of what the ad says. Have you tried it?