It has been awhile since I've done any sock hauling. The truth is, I have a lot of socks. I don't really need anymore. I'm trying to "use up what I have". But I couldn't resist picking up a few things on clearance from SockDreams - my favorite Online sock store. I've been shopping there a looong time... since before the site was even called SockDreams, before they started a successful physical store up. They've come a long way. Here is what I picked up: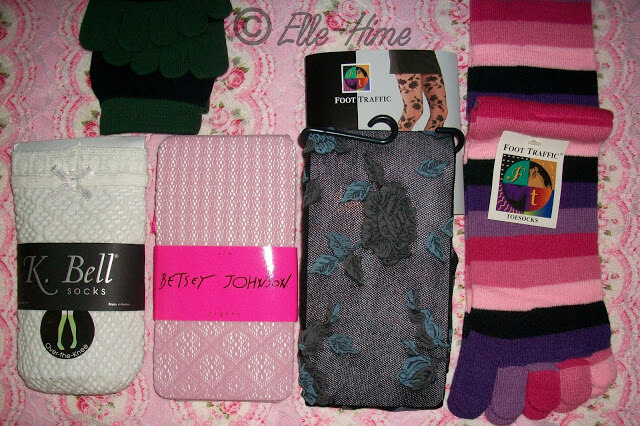 The green toes peeking out up top aren't for me, but they were going to feel left out otherwise. (; The K. Bell socks are really awesome, really more of a net tight and sock hybrid, because they are open-work but made of cotton and thus rather thick. These fit great and I love the lace trimmed tops with their little bows. The Betsey Johnson tights were on my wishlist and I just love them! Perfect color, cute design - they are so me! My two new additions from Foot Traffic are awesomely pretty rose tights and really cute toe socks with stripes of pink, purple, and black. Also very me!
The other nice thing about this haul was the amazingly fast FREE shipping! Seriously these were going out the very same day I bought them, within just a few hours. SockDreams is so quick and their customer service is superb. For example one time I accidentally ordered a pair of socks in a color combination that I already had (guess I really liked them), so I E-mailed asking if it could be changed and just like that I got a response, it was fixed, and my socks were on their way to me. I highly recommend their site to everybody.
I'm a collector of socks, for sure. Trying to keep myself within the bounds of reason, though, which is more than I have done in the past. What about you? Any quirky accessory that you love to hoard?