My second monthly haul post and I've already managed to be late! Well, not really, I'm aiming for end of the month or start of the new month, but I did want to post this two days ago. Technical difficulties botched my plans. I wanted to put up another Different Dimension polish today. You will get to see Different Dimension polishes here too, at least. So, let's see what I got!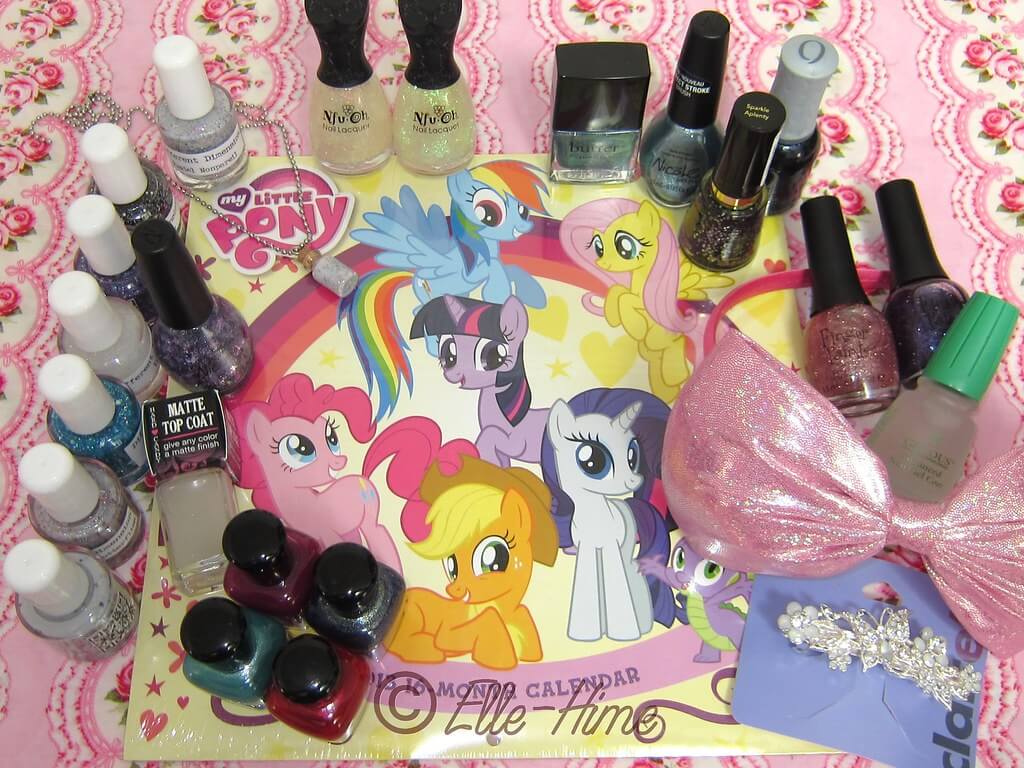 A My Little Pony calender for next year, yes! I was thrilled when I spotted it. Now I'll have more ponies in my sewing room during the coming months. Also, it probably ties with second-hand nail polish as the cheapest thing I bought. =P Let's see the little things up close...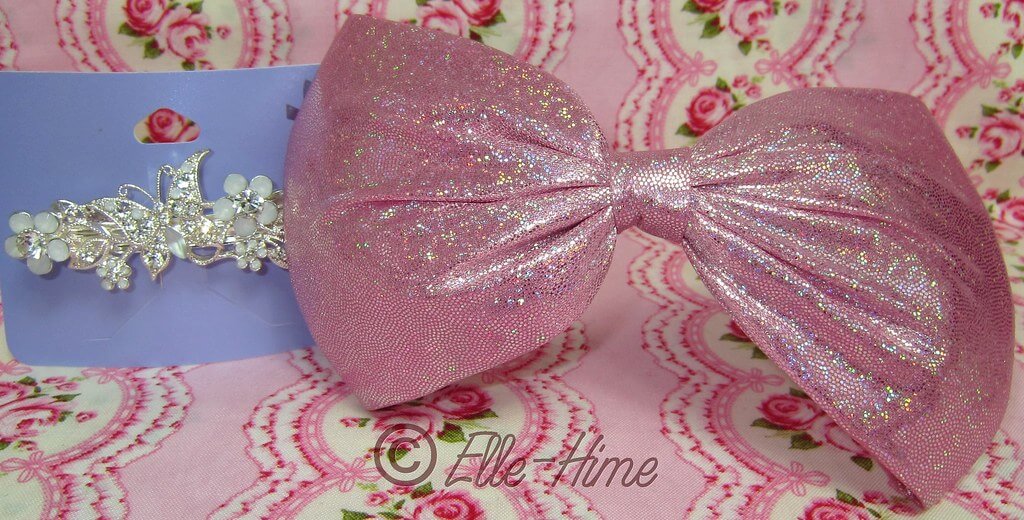 I made a stop in at Claire's. They didn't have much on sale, some polishes marked down but none of their awesome ones. But this bow!! I have the silver version already and I love it because it is a rainbow holographic material... awesome... I picked up that silver one quite awhile ago at a different store, and hadn't seen any others. Again this shop had just one, but this time in pink. =)
Because hair goods at Claire's are perpetually buy one, get one half price I looked around for something else. Most of the stuff I couldn't see me actually wearing, so I browsed through their "formal wear" jewelry. Almost grabbed a crystal headband but then spotted this butterfly barrette with clear and opal crystals. I love barrettes, butterflies, and opals, so it was a much better fit!

Left to Right: Hard Candy Matte Top Coat, Nicole by OPI Let's Get Star-ted!, Finger Paints Hue Left A Message? and Purple Palette, "Gelous", Nfu-Oh 38 and 40.
This is my first matte top coat. Picked it up because I have some nail art ideas that require contrasting finishes! (And it's the cheapest mattifying topper!) Grabbed the NOPI along with it because I couldn't resist the lavender star glitter. Both of those polishes came from Walmart.com, and I even got a little
cashback
for buying them that way. =)
Stopped at Sally Beauty and fell for the pastel pink micro-glitter Hue Left A Message?; grabbed fellow micro-glitter Purple Palette because it was B1G1 free! Snagged a bottle of Gelous as well, because it was on sale. I'm going to try it over rough glitters!
I bought the
Nfu-Oh
polishes from
FabulouStreet
, marked down from their regular price and with a coupon code on top! So now I have flakies 38-40. My flakie layering needs are met!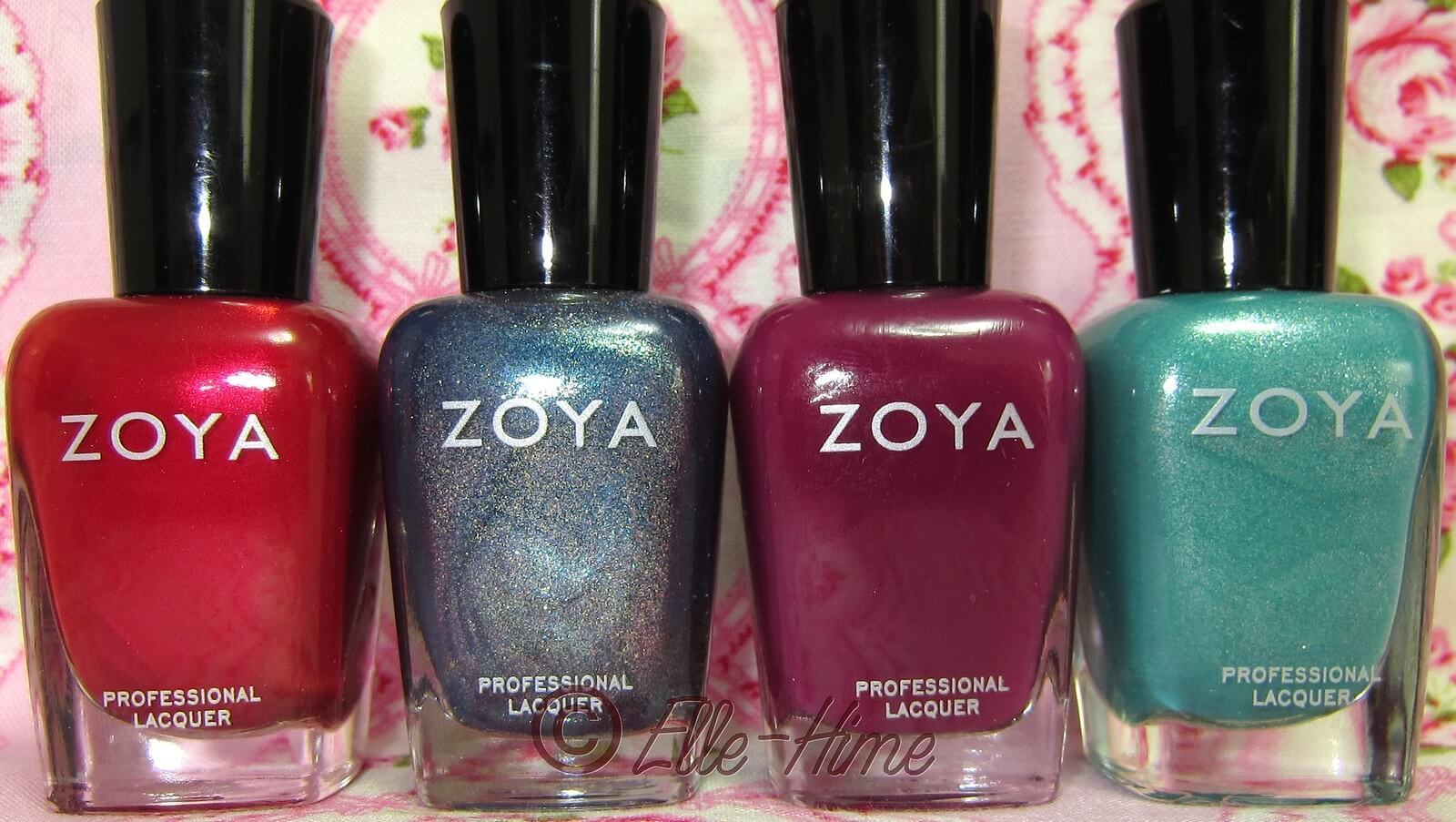 Left to Right: Zoya Elisa, FeiFei, Paloma, Zuza
Zoya
had a half price polish sale on up to 8 bottles, so I picked out 4 and my Mom picked out 4. I had to snag some of their newer polishes. FeiFei, Feifei, Fifi, however you say it... is really pretty in the bottle. Those yellow particles shift green and pink!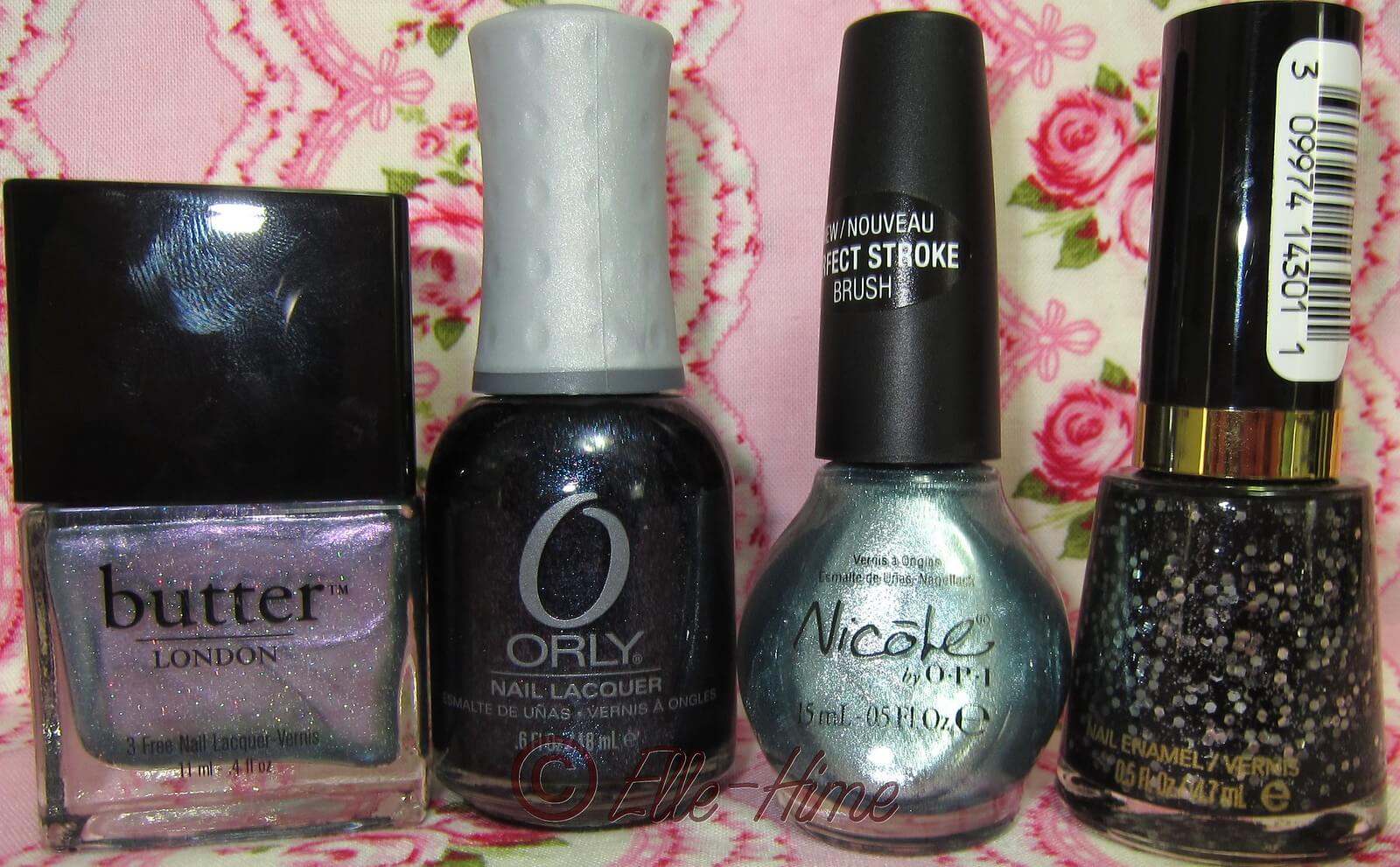 Left to Right: butter LONDON Knackered, Orly After Party, Nicole by OPI Rich in Spirit, and Revlon Sparkle Aplenty
These polishes actually came from Sara at
My Life in Polish
. (And I'm already down one - I bought a
Zoya
to be given away!) She was also kind enough to track down a bottle of
Revlon
Sparkle Aplenty, so yay for awesome bloggers helping each other out! Knackered is my first
butter LONDON
polish, a brand that I hope lives up to the hype!
Orly
's After Party is just the way I like by blacks: super pigmented but with a little extra something - it's on my nails right now!
As always I love buying from blog sales. Check out her page, it's all updated and there are lots of goodies left! (Oh, and my
For Sale
page is all updated as of today, too! New pictures and everything!)

Left to Right: Different Dimension Rainbows & Butterflies, That Is So Fetch! Soft Kitty Warm Kitty, Social Suicide, Light It Up Blue, and Iris
Hmmm, one is missing! I left out my custom polish because I'm saving it as a surprise after all these are reviewed! I've already shown
Rainbows & Butterflies
, and the others are just waiting to be posted. I've worn them all and to sum it up simply: absolutely wonderfully awesomely enjoyable nail polish! Really, I'm impressed. You can find
Different Dimension polishes on etsy
.
One thing that I count as being part of this month's, er, last month's! haul was getting my hair touched up! I don't have any good pictures of it yet because I was sick the day of getting it done and proceeded to become less photogenic as the week wore on. Feeling better now, and loving my new lowlights! Thanks for reading~!