Have you ever been on the fence about something that a lot of people say is great but you aren't sure you really need it? So you almost don't get it? I was that way about Different Dimension - That Is So Fetch! I'm drawn to purple nail polishes. That means I have several purple glitter polishes already, and I almost didn't get this one. Finally I told myself that I would use it, so I should add it to my collection. I'm so glad I did!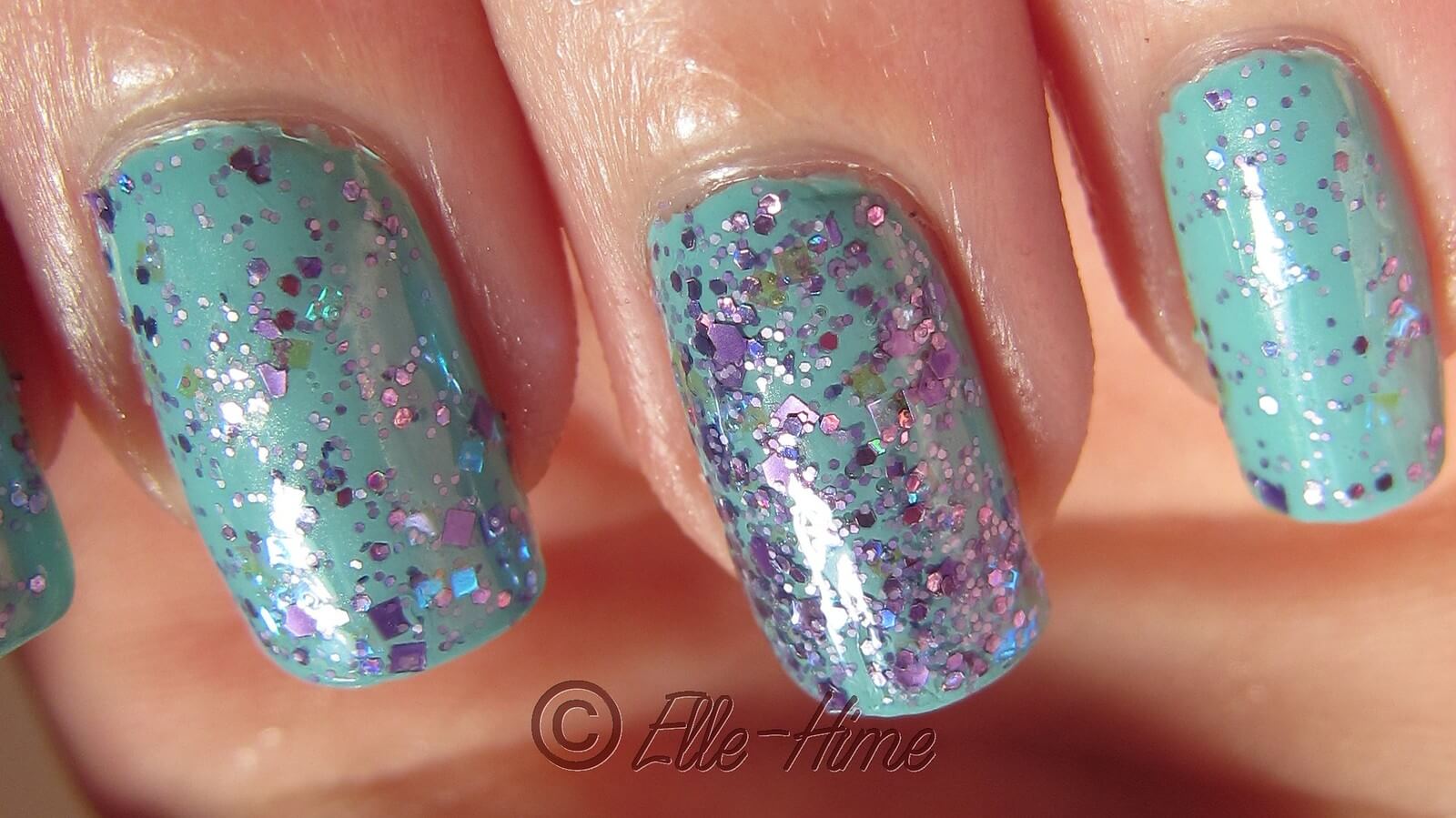 LOOK AT THAT GLITTER! Click the picture to see it up close!
This glitter polish has a clear base so you can choose any color and not worry about it being tinted a different color. I've seen this polish swatched over a lot of lavender shades, but I decided on
China Glaze
For Audrey. A quite recognizable color in the polish world. That Is So Fetch! works perfectly over the blue-green shade, letting the purple glitters pop while giving a nod to the color changing square glitters it contains. It's like the two were made for each other. =)
This polish has purple hexes and smaller purple squares, small holographic lavender hexes and teeny lavender glitters. The iridescent squares flash sea green and blue in the bottle, and on my nails they would show a grass-stain green, as well. It ends up being a colorful polish for one that has so much purple in it.
I was very happy with the concentration of glitter that I got in just one coat. It spread evenly. I put 3 coats on my ring finger as an accent and left my other nails at one coat. The polish was quite thick on the nail at 3 coats but it still spread easily. After 1 layer of top coat I didn't have any noticable texture on my nails.
I noticed a similar looking polish recently added to the etsy shop. It is called
No More
, half of the proceeds of which will be donated. It doesn't look like a dupe of That Is So Fetch - it has the color shifting squares and lots of purple, but smaller/finer glitter that looks darker in the bottle. So keep these two choices in mind!
I really, really enjoyed wearing this polish... Would you?
I wholeheartedly recommend this polish to anyone that likes purple and lavender tones. It is a unique glitter polish that I'm happy to have in my collection. I know I'll be using it! So head over to
Different Dimension
on etsy to find a bottle of your own! I will be sharing more
Different Dimension
polishes on my blog soon, so keep an eye out! =)