So I was on the hunt for a nail polish thinner that wouldn't break the budget, and most reviews Online were pointing to Beauty Secrets brand - carried at Sally's. The closest Sally's to me is a couple towns away and with how inconsistent my work schedule is it is a rare thing for me to go over that way anymore. So I turned to the Online storefront where I found not only my nail polish thinner but other goodies, as well. Here is most of what I ordered: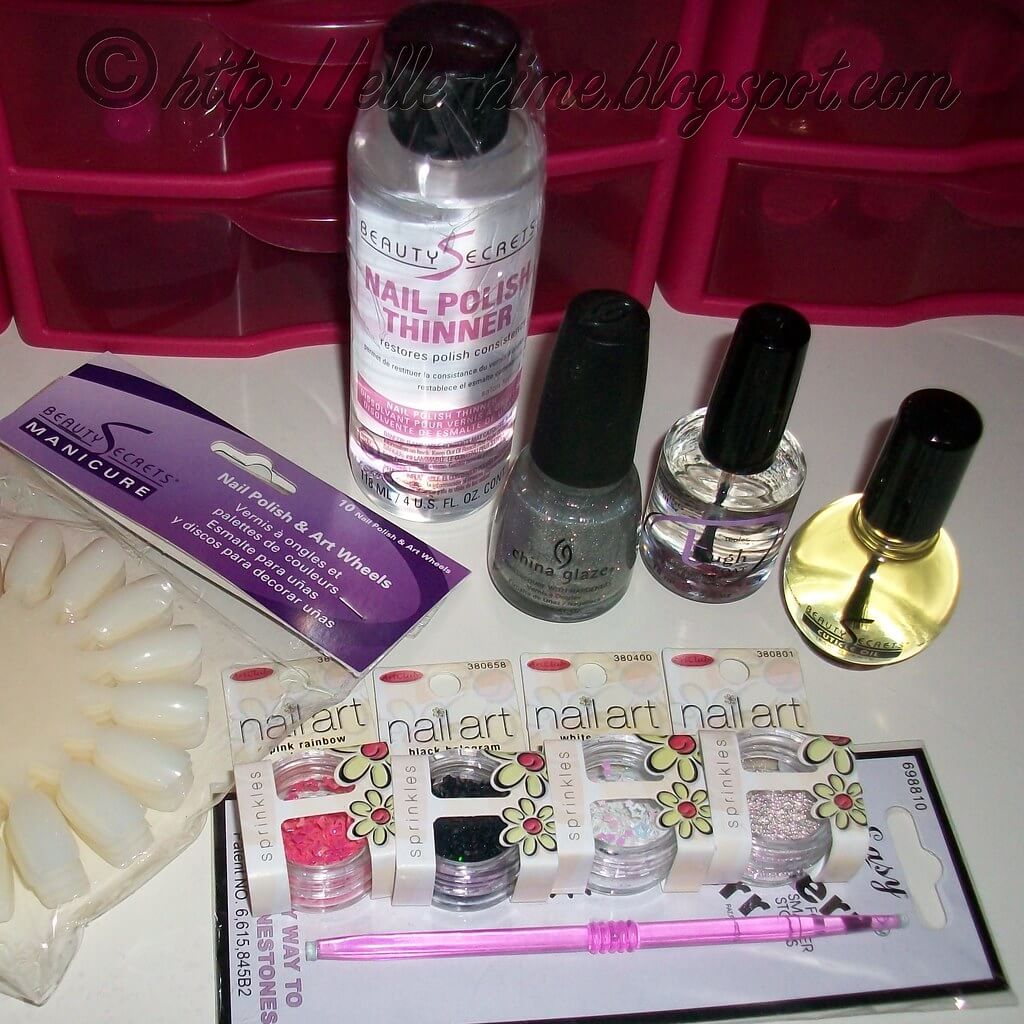 I picked up a set of nail wheels, China Glaze Tinsel, Tough Coat top coat, Beauty Secrets Cuticle Oil, and some nail art glitter flakes and silver bullion, and a Picker Upper tool.
I doubt I'll ever swatch all the colors in my collection that I know and love, but I will definitely use them for testing new colors and different polish layering combos. China Glaze Tinsel was on my wishlist, and they happened to have in on sale for $1.99! Tough Coat seems to be a good, thick and protective top coat for nail art, and I needed one of those. All the other accessories were things I was interested in trying and bought up so I'd reach the free shipping mark! I did order a few more things, dupes of what I own, and one item that was not in stock so they did not charge me for it or send it to me.
Everything was shipped out pretty quickly and arrived safely, as you can see they taped over the top of the bottle of thinner. Everything else was in bubble wrap. I'm happy with what I got and think it's awesome that I managed to use a coupon from their site, got free shipping, and earned cashback. Plus a few items were on sale!
The best part of buying Online rather than in the store? I found out SallyBeauty.com does cash back! They have it through a few sites but the highest rate is from BigCrumbs.com, a whopping 9.6% cashback on ever dollar you spend. So if it's not an "emergency" that requires running to the physical store to buy something I will definitely just keep a wishlist there Online and place an order through the webstore now and then.
Do you shop in their physical store or Online? If you ever use their Online site make sure your sign up for Big Crumbs to get some of your money back on what you buy!