First off, I was fortunate enough to win Sirena Sparklestar's 900 Follower Giveaway.  I've actually had my prize for awhile now but didn't get around to posting it.  I always like to share my wins on the blog here to show "look, I did get my prize!", and also leave some link love for the person who gave away the prize.  =)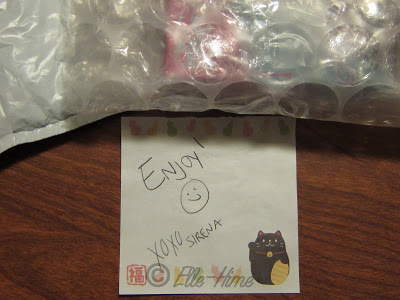 I immediately ripped it open to take poor-lighting shots of everything after I came home from work and found it in my mailbox, hehe.
   A Sugarpill palatte!  Yes, their packaging is every bit as high-quality and pretty as I've heard.
   More specifically, the Sugarpill Sweetheart palette!  The colors are brighter in reality.  Not sure if you will see any looks using this from me simply because I stink at doing eyeshadow pictures, but it is really awesome!!
   So... 
Thank-you, Sirena Sparklestar!!!
  To all my readers, you should check out her blog!  She swatches a lot of pretty nail polish but does reviews for other beauty items as well - kind of like my own blog

(but with better pictures)

.  =)
And now we can move on to the rest of the post...