Quite a bit has happened in the 6 months I've been away. During this time time of absence from the blog my nails have been (of course) better than ever. It feels like I'm finally finding the sweet spot in my nail care routine. I've had the chance to try some new products, and I've left behind some old standbys. Rather than let my 6 months of learning go to waste, here is a collective post on the different base coats I was and am using, and some things I've learned about them.
Why I Tried It: Poshe fast-drying topcoat was the first one I ever used, and I picked up the base coat to go with it when I finally chose it as my topcoat of choice. Their basecoat is supposed to work with their topcoat for even faster-drying manicures.
The Good: 3-free formula.

Worn alone: It dries shiny.
The Bad: Yes, my bottle had a wonky brush, but that isn't typical, so ignore that! The main problem with this basecoat was that when it came time to apply nail color over it, it completely rewets itself and turns into a slick mess under your polish. It creates extra trouble with bald spots and pooling at the cuticles.
The Reality: I never noticed my manicure drying faster when I used both of the Poshe products together. I would not recommend this basecoat. It is nothing special and fairly hard to track down anyway.



Orly: Bonder
Why I Tried It: Designed to give superior grip and adhesion, this well-reviewed base coat was crying out to be used. Also easy to find!
The Good: Where Poshe had been a slippery coat on the nail this is the exact opposite. It dries to a tacky finish that really does grab the polish off of your brush, helping cremes (and other finishes) apply smoothly. Oh, and manicures do last a bit longer with it, too!

Worn alone: Fortunately the orange tint doesn't show up. It initially dries tacky but if you keep it on alone eventually that tackiness wears away and you're left with smooth, slightly shiny nails. (Note: If you apply polish after the tackiness if gone it doesn't "grab" your polish as well!)
The Bad: It does not prevent staining. At all. In fact, some reviewers say it even causes staining or makes it worse. Perhaps the odd orange color should have been a tip-off? I have to agree with this. Looking back on the times that my nails were horribly, terribly stained, I was using this base coat.
The Reality: This polish does great in being a primer that helps nail polish apply better and wear well, but I'm disappointed in the staining. Perfect for quick swatches, but not for wearing a week-long manicure. Basically, you should wear a stain-preventing base coat under this... which I've done with Qtica but is a bit silly!



Why I Tried It: C'mon, Qtica and Zoya are made by the same company. Who doesn't love Zoya? They are some of the best polishes ever! When I finally gave up on Poshe I moved on to this. Also, I was trying to get my nails to grow longer, so anything that might help me towards that goal was welcome, though I was skeptical.
The Good: It's easy-to-use with it's grippy soft-touch cap and slim brush. The 3-free formula is good and did a decent job to prevent staining.

Worn alone: It dries fast on bare nails, has a nice shine when and will last for a few days.
The Bad: The price! It's rather expensive. And I wasn't getting any amazing wear times out of it, either.
The Reality: I was finally tired of scouring eBay for a "good deal" on a base coat that wasn't doing everything I needed. When I first purchased it I knew any effect on nail growth would not happen overnight, but then I read something that was a bit of a lightbulb moment: no basecoat is going to stimulate nail growth. Your nails are dead tissue! Would you rub garlic on the ends of your hair to make it grow? No, you go to to scalp, your folicles, the source to do that. Duh!
So this base coat wasn't keeping my polish on chip-free and it definitely wasn't making them grow more. No longer did I feel tied to using it. I was also having continued issues with peeling during my use of this basecoat, and web searches of other reviews had some users reporting that this base coat made their nails peel. I haven't been using this anymore since my last bottle ran out.
Why I Tried It: I can't be the only one who picked this up for use, not as a base coat, but as a topper. Known for it's gel-like formula, glitter addicts like to use this to smooth out gritty polishes.
The Good: Not too expensive and fairly easy to find.

Worn Alone: I did use this as a base coat, too. It is the thickest-drying base coat in my collection, and would make a great ridge-filler. It dries to a smooth shiny finish, but I never wore it alone.
The Bad: It starts to get thick in the bottle from use. I've had to add thinner and it's only half used up. Other than that, it's a good base coat, or even top coat. Not phenomenal, but good.
The Reality:
This doesn't have any negatives that would prevent me from recommending it, but it also isn't a wonder product that made everything so much better for me. When it comes to creating a glossy finish on gritty or bumpy glitter it seems nothing works as well as thickened fast-dry topcoat. And really, what else can we do with topcoat like that? I mentioned that this gets thick, yes. But somehow it doesn't make itself extra-smoothing when that happens. Go figure!
Sally Hansen: Hard as Nails Hardener
Why I Tried It:
Sadness. This came to me with the polishes I inherited from my sister-in-law who passed away from cancer last year. =(
The Good: It features a slim brush with clear bristles. It makes application easy! The formula is thin and has not thickened at all.

Worn Alone: Dries pretty fast, has a nice shine.
The Bad: That nice brush is on an awkwardly long stem attached to a short bottle cap. Contains formaldehyde as part of it's strengthening formula. Stronger smelling than most other base coats.
The Reality:
This isn't something I would have picked up for myself, but I wasn't afraid of the non 3-free formula, and I wasn't going to let it go to waste. It is used solely as my under-the-free-edge-of-my-nails base coat. Sealing off my nails this way has helped my nails to grow longer without chipping in a major way! I don't know how much the formaldehyde really helps, I think and base coat under my nails would be good.
But I don't plan to buy more, either. I'll be looking for something less smelly when it does wear out, hopefully with another nice slim brush to make it easy to apply under my nail.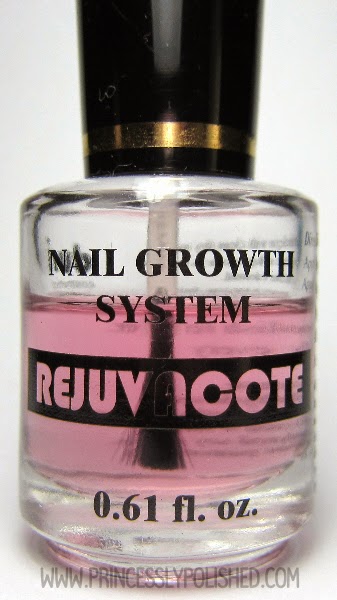 Duri: Rejuvacote
Why I Tried It:
Well-reviewed and recommended by lots of people, it suddenly became available at our local Walmart. I had read that there can be problems with
fake
Rejuvacote being sold Online, so I was leery of buying it "just anywhere". I was hoping for something that could cure my peeling nails issue.
The Good: Does just fine under polish, no issues with polish being tricky to apply over it. Pink tint really doesn't show up, but might add a healthy glow..?

Worn Alone: It's not especially fast-drying, and it doesn't last when worn alone. I really like a base coat that can hold its own for a couple of days when I don't have time to paint my nails, or at least one that can be applied in the morning and last until it's manicure-time in the evening.
The Bad: It contains formaldehyde to strengthen nails. I still have some nail peeling (ugh), though not anywhere as bad as before. So, not a miracle cure but not hurting anything, and possibly helping instead! I have only had staining with nail colors that I was expecting staining from, and nothing extreme like what Bonder did to me.
The Reality: This stuff is good but not as good as I had hoped, especially when worn alone. I will continue to hunt for my ideal base coat!


Base coat may be the most important (and trickiest) nail product to "get right". Remember that nail chemistry varies and you may not have the same results as me or whatever the majority experiences. If you aren't happy with your base coat, keep trying until you find the right one for you! Getting the right primer for your nails will make a huge difference in the health of your nails and your manicure satisfaction. I hope this helps make you more aware of common and not-so-common base coats. What base coat have you been using, and what do you think of it?